The Princes of Florence is a Renaissance-era game, wherin the players try to gain prestige by sponsoring works of art, and otherwise making Florence a more beautiful place.
Players: 3-5
Playing Time: 1-2 hours
Complexity: 6 (of 10)

This game was originally produced in Germany in 2000 as Die Fürsten von Florenz by Alea.
This review was originally published in May, 2003, and has since been mildly revised.
The Components
The Princes of Florence comes with a large set of components:
1 game board
5 player boards
map markers

18 landscapes
30 buildings

other markers

12 freedoms
7 jesters
6 builders
53 money tokens

60 cards
wood bits

6 wood figures
6 wood markers

1 rulebook
Game & Player Boards: The game board is an extremely solid, smooth sheet of cardboard which keeps track of a few different numbers: a track marked 0 to 50 is used for prestige points (though, very annoyingly only every 10th number is actually filled in); and another track lists the 7 rounds in the game along with each round's corresponding required Work Value. The board is very plain, printed in four-color, but actually only using some sepia and pink shades--and much of it's a muddle because most of the spaces in the prestige track are filled with random drawings.
The player boards are printed on the same smooth, thick cardboard. Each one portrays a player's home principality, with a grid to contain buildings and landscapes; there are also locations to place builders, jesters, and freedoms. The rest of the board is taken up with: a list of the 21 professions, along with preferred building, landscape, and freedom; and various rules for the game. Having all the rules easily available to the player is very nice, but would be better if it wasn't all laid out in a pseudo-cursive font which is slightly hard to read. The board is a bit more colorful than the main game board, but still surprisingly plain.
Map Markers: The buildings and landscapes are all little puzzle pieces which fit on your principality grid. They're printed on sturdy cardboard. Each building is clearly labeled with its name, though again in that cursive font. The various landscapes (lakes, parks, and forests) add the only color to the principality (because all the buildings portray plain red roofs).
Other Markers: The freedoms are small, rectangular cardboard pieces which portray freedom of opinion, freedom of religion, and freedom of travel. They're all nice enough. The jesters and builders are likewise printed on sturdy cardboard; they're clearly differentiated from each other, with the builders being square and the jesters circular.
The money tokens, printed on the same cardboard, come in three denominations: 100, 500, and 1000 Florins. The designers did a good job of making these distinct by choosing three slightly different sizes and more importantly three very different colors for the money tokens.
Cards: There are four different card types: prestige, professions, bonus, and recruiting. They're all printed on sturdy cardstock with rounded corners. They're again fairly plain, concentrating on sepia and brown tones. The "Bonus" card backs use a gradient technique which looks very out-of-place, but at least it makes the cards distinct; on the other hand the recruiting and profession card backs are almost identical, and thus easy to mix together (as we did at least once during play tests).
Wood Bits: Each player also has one marker and one figure, both carved in wood. The marker is a plain circular disc. The figure is a very cool looking man with a hat which is well done.
Rulebook: The rulebook is 12 pages long on glossy paper. It's theoretically four-color, though again most of it is sepia and brown. The rulebook does a great job of presenting the rules--better than just about any game I've seen. Among other things it: includes a running sidebar that summarizes important rules; and gives a listing of all the bonus and prestige cards. I've never seen anyone do a running sidebar summary as is done in this game, and it improves one's ability to use the rules as reference by about 100%.
Box & Tray: The box is very sturdy. There's a tray inside that's somewhat useful for storing all the game parts (especially the cards), but it clearly wasn't designed specifically for this game.
The quality of the rules and the components is generally above average, but not as spectacular as many German games I've seen. In addition, the muted palette does decrease the beauty of the game. I give it a "4" out of "5" for Style.
The Gameplay
Setup: Each player starts the game with 3500 Florins, three profession cards, and a principality that contains only a palace.
A game of The Princes of Florence is divided up into 7 rounds; in turn each round is divided into 2 phases: the auction phase and the action phase.
Auction: Each auction phase starts off with a new first player (which goes clockwise around the table). There are seven objects available for auction: the three landscapes (forest, lake, and park); jesters; builders; prestige cards; and recruiting cards. (We'll get to what all those do in time.)
The first player chooses an item to be auctioned, and then bids go around the table in a standard stepping-up order (the "bidding" starts at 200 Florins, then goes up 100 Florins per bid) until everyone but one player has passed, at which time that remaining player wins the auction.
If the player who initiated the auction won, then the next clockwise player who has not yet won an auction gets to initiate the next one by choosing a new item to be auctioned; otherwise the same player gets to choose a new item.
A few rules:
Each player can only win one auction per round.
Each item can only be auctioned once per round.
These rules combine to form some interesting dynamics of brinkmanship in choosing what to auction and whether to bid or not.
The auction phase ends when each player has won an object (and you'll note that the last player gets his item for a mere 200 Florins because no one bids against him).
Upon winning an item, a player gets to place it on his player board.
Landscapes. These are placed in the player's principality. This is a grid on the player board that's 7 spaces by 7 spaces, though 6 of those spaces (a 2x3 rectangle in the bottom left) are already taken up by the player's palace. We'll later meet the principality grid again when we get to buildings. Used to provide a bonus for certain Works.
Jesters. Placed in the player's palace. Used to provide a bonus for all Works.
Builders. Placed in one of three "builder" spaces above the principality. Used to decrease the cost of the Build action.
Prestige Cards. Set to the side. Used at end game to gain additional prestige points.
Recruiting Cards: Used at once to steal a profession from another player.
Of note: whenever you get a card--when you win a prestige card in an auction or when you buy a profession or bonus card during the action phase--you actually get to draw the top 5 cards from that deck and then select the one you like the most, a very nice way to reduce randomness in the game.
Action: During the action phase, play goes around the table clockwise starting with the first player. Each player gets to take up to 2 actions from the following set: buy a freedom; buy a profession; buy a bonus card; build; or create a work. You can only do the freedom or profession actions once; the rest you can choose to do either once or twice, as long as you have actions left. (And, as I'll comment later, the "only once" actions are confusing and easy to forget for a first time player.)
Freedom. These can be purchased from the bank for 300 Florins. They are in limited supply. (Max number of each freedom is equal to the number of players minus one.) Used to provide a bonus for certain Works.
Profession. An additional profession card can be bought for 300 Florins. This is typically done if you've run out of your own professions and haven't won an auction for a Recruiting card to steal a profession from someone else. Used to create Works.
Bonus. A bonus card can be purchased for 300 Florins. Used to provide a one-time bonus for certain Works.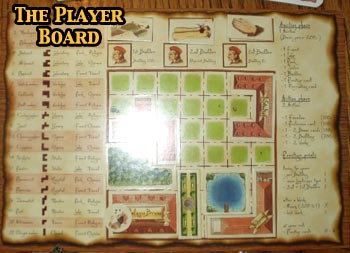 Build. A building may be built within a player's principality. The cost is 700 Florins, or 300 if you have one builder or 0 if you have three builders. In addition, buildings may only be placed adjacently in your principality if you have at least two builders (otherwise they can't touch). Buildings come in three sizes: large (7 spaces); medium (5 spaces); and small (3 spaces). Some are very odd shapes, and thus it can get tricky to place your buildings (and landscapes) in your principality if you haven't planned carefully. Used to provide a bonus for certain works.
Works. So, why are you doing this all?? Ultimately, to produce works. These are the items that give you prestige and respect among your fellow snooty Renaissance upper classmen. Each work is created by playing a profession card. A work value is then calculated, as follows:
Correct Building: +4 (each profession has a preference)
Correct Landscape: +3 (ditto)
Correct Freedom: +3 (ditto)
Each Jester: +2
Each Profession: +1 (for professions already played)
Bonus Cards: +X (played together with profession)
So, for example, say I was trying to play the Choreographer. His preferences are building/opera, landscape/forest, and freedom/travel. So, if I have an opera and travel, but not a forest, I'd have a "7" work value. I might have a Jester who brings the total up to "9", and one previously played profession, which brings my total up to "10". Finally, I could add in a bonus card. Say I had one that read "Each Forest in your Principality increases the WV by 2". If I had 2 forests, that'd then bring by total to "14".
Each round has a work-value minimum that must be met in order to play a work. Starting with round one, these minimum values are 7 / 10 / 12 / 14 / 15 / 16 / 17. My "14" value work could thus be played in rounds 1, 2, 3, or 4, but wouldn't be sufficient for 5 or later (due to a "Keeping up with the Joneses" phenomenon).
You get Florins equal to the Work Value times 100 whenever you play a work.
Work Value also has value in Prestige ...
Earning Prestige: So how do you win the game? Ultimately, through Prestige. This is earned as follows:
3 Prestige / building
3 Prestige / landscape of the same type after playing the first of that type
3 Prestige / second or third builder
Immediately after playing a work, a player may decided to forego some of the Florins for Prestige at the rate of 200 Florins / 1 Prestige.
3 Prestige / best work each round (in a tie, both win).
0-8 Prestige / Prestige cards.
Prestige cards have requirements such as "the most Builders" or "the most Lakes" or "the most Works". If the player meets the requirement, he earns the full prestige value of the card at endgame; if he ties he earns half; and if he fails he earns nothing.
Winning: After all 7 rounds, prestige cards are added into the already marked prestige points and a winner is declared. Ties go to the player with the most filthy lucre.
Relationships to Other Games
Puerto Rico is #4 in the Alea Big Box series of games. Alea is a division of the publisher Ravensburger in Germany, whose goal is to produce games of "particularly high strategic requirement". They've published many of the most memorable strategy games of the last couple of years (with The Princes of Florence being the most acclaimed until the later release of Puerto Rico). Alea games still in print in English include The Traders of Genoa (#6), Puerto Rico (#7), and Mammoth Hunters (#8).
Of these, The Princes of Florence bears notable similarly to Puerto Rico. Both are scarcity-based games centering around the acquisition of certain markers. Each centers around a tradeoff of money versus victory points. Each provides players with their individual board to lay out their empire.
The Game Design
Overall The Princes of Florence is a well designed game whose main flaw is probably that it's a bit too complex strategically for the casual gamer. Here's some of the stuff I liked about the design:
Hidden VPs: The Prestige Cards act as a sort of hidden Victory Point in the game, which can have a minor effect (10-20%) on the overall outcome; this is generally a plus in a game because it keeps everyone involved until the last moment, rather than dropping out because they feel like they've already lost.
Games Vary by Players: The number of players is a game can dramatically change how it plays because of increased rarity of some pieces as the number of players climb; this is nice because it increases the replayability of the game overall by offering more variety.
Multiple Paths to Victory: There are many paths to victory, e.g. concentrating on builders or jesters, monopolizing freedoms, etc. This gives each player the ability to dynamically react to the actions of his opponents and overall does a lot to increase the strategy within the game. It also is what tends to make the "auction" aspect of the game work (along with the fact that different players will need different freedoms, buildings, and landscapes to support different works).
Interesting Puzzle Aspect: The idea to lay the game board out as a puzzle, where space is very limited, and where you have to figure out how to piece together your various buildings, is very unique, and adds a whole different level of tactics that you don't find in most strategy games.
Resource Limitation Well Thought Out: The way that resources are limited, e.g., there are only a set numbers of freedoms, buildings, etc., is very well done and introduces a new tension into the game, whereby players must constantly think about buying a piece before they really need it in order to ensure that they're not shut out when the piece sells out.
Randomness Controlled: The game does a good job of controlling randomness by letting you select from 5 cards whenever you're supposed to draw one. This is a nice balance because there is still an arbitrary element, but it's controlled within tight bounds. (Though, on the down side, it requires more sitting and waiting around as a player pages through his 5 cards and decides what to keep.)
Here's some of the flaws in the game:
Bad Power Curve: It's easy to get irrevocably behind in this game by making bad decisions at the start, with no way to then catch up.
Confusion in Limited Actions: Of the five actions that can be taken in the game, two can only be taken once per turn and the other three can be taken up to twice per turn. Even though it's clearly marked on the board, this sort of difference can be confusing to players, leading to mistakes being made in the game (as, indeed, happened in one of our playtests).
Player Interactivity Poor: Perhaps because of the game rules, perhaps because of the fact that each player has his own "game board", there's a feeling of very limited interactivity between different players. You do compete in the auctions, but then each player's action phases are totally distinct and separated from the other players. This goes directly against one of the strengths of tabletop board games--the ability to interact with other players--and is thus a bit of a shame.
Deep Thought Required: A fair amount of thought is required in this game. There's the very heavy strategy element already mentioned, which is compounded by the fact that you can get permanently behind; in addition there's a lot of simple math required as you constantly calculate and recalculate work values. This all can potentially raise the cognition level higher than most casual players will desire.
Overall, The Princes of Florence is a very strong strategic game design without any actual flaws in the gameplay. However, the limited interactivity and the mathematical requirements are real issues, thus limiting the Substance to "4" out of "5".
Conclusion
If you're a serious strategy player that enjoys a thinking man's games, this is one for you: a solid, interesting European design. If you prefer your games in a slightly lighter vein, read this review carefully first to see if Princes of Florence is actually of interest or not.