Mission Red Planet
is a unique majority-control game by Bruno Cathala and Bruno Faidutti.
Players: 3-5
Time: 60 minutes
Difficulty: 4 (of 10)

The Components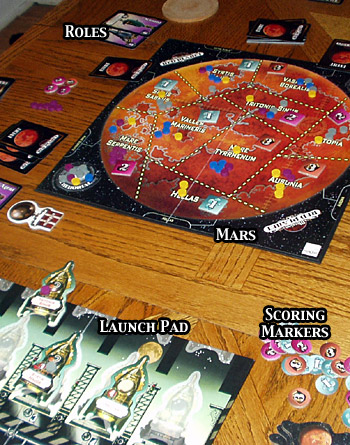 Mission Red Planet comes with:
2 boards
34 rockets
20 destination markers
14 resource tokens
70 score markers
1 first player indicator
1 turn indicator
24 event cards
45 character cards
1 rulebook
The Game Boards: A 4-panel game board depicting a Mars divided into ten regions and a 2-panel board depicting launch pads for five rockets as well as a turn track. They're both sturdy and high-gloss, as is common for Asmodee games. The Mars board is a little boring because Mars is depicted quite red, but the launch pad board has the more intricate graphics that you tend to expect from Asmodee.
Cardboard Bits: All of the cardboard bits are sturdy and printed on glossy stock. Included among them are: 14 square resource tokens which each show a resource and its value, ice (1), sylvanite (2), or celerium (3); 70 circular scoring markers which show the same resources and values; a medal that's handed around to the first player, and a little turn marker that's run along the turn track.
The sylvanite and celerium resources are pretty silly, and it's not easy to remember which is which. We tended to call them "crystals" and "radioactive waste". There also don't tend to be enough score markers to mark things at the end of the game, especially in a 5-player game. The rules suggest using the square tokens to make up the difference, but I would have preferred a few more score markers. But these are both minor issues.
The coolest cardboard bits are the 34 rockets. Each is a big rocket-shaped piece of cardboard with cool rocket art on it. Each one shows its destination both as a name and a shaded space on a map, and an astronaut limit as a large white number.
The 20 destination markers go with the rockets. They're cardboard rectangles, two for each of the ten regions. They can be placed on rockets to change their destination.
Cards: There are two different types of cards in the game, character cards, which you use to take actions, and event cards, which can do a few different things. Asmodee did something pretty unique with their cards: they made the two decks of cards slightly different sizes. This turned out to be really useful. A few times I almost grabbed the wrong cards, but the size differential stopped me.
Each player has nine character cards in his color, from recruiter (1) to pilot (9). They each have unique art, plus an explanation of what they do at the bottom. The explanations are in pretty small print, but on the plus side almost all of the rules got onto the cards, which is very nice.
The event cards include discoveries (which are placed on regions on the board) and bonuses (which are kept in hand). They feature a variety of relatively plain art, and again include nicely complete explanations. Two of the event cards got unfortunately (and oddly) misprinted so that random letters are missing from the descriptions. They're readable (if you're careful) but annoying.
Rulebook: An 8-page full-color rulebook that's attractive & has a great summary of the 9 character cards at the end.
Box & Tray: I don't usually mention the box & tray, but they're both worth noting here. The box is extremely sturdy. The tray, meanwhile, is pretty well designed overall but doesn't really have space for the rocket ships. I've been spreading them out across the top of the tray, but expect I'll eventually pull it.
There were two minor elements that I wish were included as components, but weren't. First, it'd be nice to have a single reference card for all nine characters. And second it'd be nice to have a marker reminding you of a special +9 Ice bonus at the end.
Finally, it's worth briefly commenting on the theming fo the game, which is Victorian Steampunk. It's amusing and it generally works.
Overall the components of Mission Red Planet are very high quality, and a surprisingly good deal for the price. They also have good utility. Generally Asmodee Editions games are stunningly beautiful. This one is just pretty, with the main board and some of the cards a bit plainer than I expect from Asmodee. And, I was a little disappointed by some typos and those misprinted cards. Nonetheless, the Components of Mission Red Planet are mostly great, and I've thus let it eke in a "5" out of "5" for Style.
The Gameplay
The object of Mission Red Planet is to successfully mine the most ice, sylvanite, and celerium by controlling the regions of Mars.
Setup: The two boards are laid out, and a number of rockets are placed on the launch pad equal to the number of players.
Each player chooses a color and takes the nine character cards in that color plus the 22 astronauts. An astronaut from a different player is randomly place on each of the rockets, and whoever was placed on the leftmost rocket is also given the first player marker.
Each player then draws 3 event cards, and keeps one of the "bonus" cards that he drew. The rest are discarded and the deck is reshuffled.
Here's a bit more about some of the components in play:
Rockets. Each rocket has an astronaut limit (from 2-5) plus (usually) a destination printed on it. Some rockets have no destination printed, and then the destination is choosen by the first player to put an astronaut on the ship.
Regions. There are 10 region on Mars, including 7 outer regions and 3 inner regions. The inner regions are protected from discoveries and soldiers, as noted below.
Bonus Cards. The events deck consists of bonus cards and discovery cards. The bonus cards are the only type that can be kept at the start of the game. Each one gives an end-game bonus for meeting some criteria (e.g., +8 for having astronauts in the 5 southern provinces). Some just give a smaller bonus that can't be taken away (e.g., +1 per region you're in). The card you draw at the start of your game will help you to plan your strategy.
Discovery Cards: These are the other type of event card, though they won't come into play until people start playing scientists. A discovery is secretly played on an outer region and it has some effect at game end, sometimes good, sometimes bad. For example one might give a +6 bonus to everyone in the region while another might make the region not score at the end.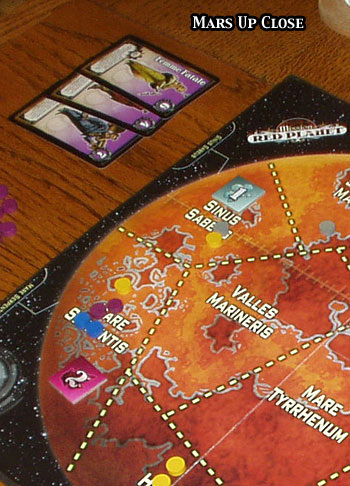 Order of Play: Each turn consists of five steps:
Lay Out New Rockets
Select Characters
Play Characters
Land Rockets
End Turn
Lay Out New Rockets: At the start of the round any empty rocket spaces are filled so that there are again as many rockets as the number of players.
Select Characters: Next each player secretly selects one of his remaining character cards for play that round.
Play Characters: Now the start player calls out the 9 characters, from 1 to 9. When the character a player selected is announced he reveals his card and takes his actions. (When multiple people select the same character, they take their turns in clockwise order from the start player.)
A character card allows a player to play astronauts to rockets that still have space and to take a special action:
Recruiter: Play 1 astronaut and recover all character cards.
Explorer: Play 1 astronaut and move astronaut(s) up to 3 spaces on Mars.
Scientist: Play 2 astronauts and draw an event card; play a discovery (secretly) to a region or keep a bonus. Or else look at a discovery already in play.
Secret Agent: Play 2 astronauts to different ships and force the launch of an unfilled rocket.
Saboteur: Play 1 astronaut and blow up a spaceship on the ground.
Femme Fatal: Play 1 astronaut and replace an opponent's astronaut with your own in a region or rocket where you have an astronaut already.
Travel Agent: Play 3 astronauts on the same ship (or none if you can't meet that condition).
Soldier: Play 2 astronauts on the same ship (or none) and destroy an astronaut in an outer zone on Mars.
Pilot: Play 2 astronauts and change the destination of one ship on the ground or that's been already launched.
Whenever a rocket fills, it launches (though it doesn't land until everyone has taken their turn, giving pilots a chance to change destinations beforehand).
Land Rockets: Now each rocket that launcehd that turn lands: the astronauts are placed in the appropriate region. If no one has visited the region before, a resource token is revealed. This either shows ice, celerium, or sylvanite, each with a different value (from 1-3). The resource token reveals what resources the region will produce during scoring rounds.
End Turn: The first player marker goes clockwise.
After the 5th and 8th rounds scoring occurs. In the 5th round, one scoring token of the appropriate type is placed on each region, while after the 8th round two scoring tokens of the appropriate type are placed. All of the tokens in a region go to whoever has the most astronauts there. In the case of ties they're divided equally with remainders left over for the next round of scoring.
Note that the different resource types have different values. Ice is worth 1 point each, sylvanite 2, and celerium 3. Thus sylvanite is flat out worth less than celerium, unless you have a bonus card that rewards you for hoarding sylvanite. This can definitely affect which regions you try and control.
Ending the Game: After the 10th round all of the discovery cards are revealed, and they have whatever effect listed. Then a final round of scoring occurs where each region produces 3 scoring markers for the winner.
Players add up all their points from scoring markers and bonus cards. Whatever player has the most ice scoring markers gets a +9 bonus (divided if it's shared). The player with the most points wins.
Relationships to Other Games
Mission Red Planet is a slightly baroque majority-control game. In that category it reminds me most of the classic, El Grande, because they have similar types of majority control where you're slowly moving your troops on the board, but at the same time have special powers that you can use to try and shake things up. Mission Red Planetis a lighter and shorter than El Grande and in that regard I'd equate it with Web of Power / China. Their mechanics are quite different but they're similarly light, fast majority-control games that still have a lot of depth.
Some people have linked Mission Red Planet to Faidutti's Citadels because they each have a set of 8 or 9 characters. However, the gameplay is entirely different, since the characters are not collectively drafted in this game. The characters also aren't as agressive as some in Citadels (namely the assassin and the thief), and so people who didn't like Citadels because of those characters liked this just fine.
(That Faidutti produced a character-based game without a "thief" shocks me. I guess it just didn't fit into the steampunk theming of the game.)
The Gameplay
To start with, Mission Red Planet is an original look at the majority-control genre. The methodology behind getting tokens to the planet is unique and the fact that you can choose actions from a set of cards give you some nice strategic look-ahead.
The bonus cards also do well to direct your strategy from the very start. Some games leave you flailing at the start, but in Mission Red Planet you're immediately presented with an option as to what to do.
And, not all of the strategy options are simple. You can make more complex manuevers, such as using a Pilot to change the destination of a rocket just to keep people away from your strongholds (or use a Saboteur or a Secret Agent for somewhat similar purposes).
The game generally speeds right along, and its quickness of play is another good point. Nonetheless you get lots of useful tactical and strategic decisions along the way.
After two games it looks to be like there's some nice balance in the game. You need to bunch up your tokens to grab scoring markers, but at the same time you want to spread out to take advantage of most of the bonus cards. We had a lot of players playing similar strategies (almost everyone used the Recruiter to recover their cards in turn 6 in both games, but I think the player who did it in turn 3 might have been at an advantage; the Saboteur was only used once in both games; and no one ever used a Recruiter more than once to replay favorite character cards), but I think there's depth we didn't explore which could turn around gameplay if someone figured out something that works.
My only caveat on the game is that there's some real chance for randomness based on draws of bonus cards, placement of discovery cards, or what happens when you try and use a "risky" character like the Travel Agent. If you're totally luck adverse you might not like it (and I've indeed heard some people complain about that aspect). However I think the risk-rewards are usually well balanced and that there's usually some way to offset the risk (e.g., using a Scientist to look at a discovery). So for the majority of people, it'll work fine.
Overall Mission Red Planet is a fresh and delightful game that I'd classify as the best big-box game Bruno Faidutti has designed (and one of Cathala's best, competing with Shadow Over Camelot). As such I've given it a full "5" out of "5" for Substance.
Conclusion
Mission Red Planet is a delightful majority-control game by Bruno Faidutti and Bruno Cathala. It's got great strategy, great color, and plays quickly. It's another hit for Asmodee Editions.