Dragon's Gold
is a negotiation card game by Bruno Faidutti.
Players: 3-6
Time: 30-45 minutes
Difficulty: 2 (of 10)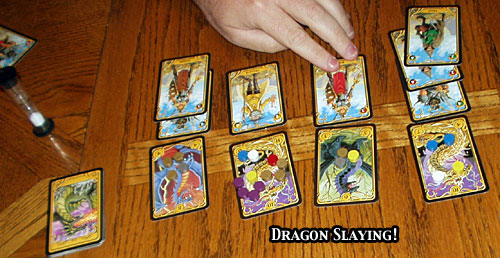 The Components
Dragon's Gold comes in a small blue box with the following components:
60 cards
126 wooden treasure tokens
1 cloth bag
6 treasure screens
1 timer
1 rulebook
Cards: Medim weight cards each featuring attractive fantasy artwork. Included are 18 dragon cards, all depicting dragons based upon the drawings from theDungeons & Dragons Monster Manual, 1 market card, 17 magic object card, and 24 adventurer cards.
The cards all feature simple bits of information. The adventurers each have a strength from 1-4. There are 4 each in the six player colors. The dragons, meanwhile, have a strength from 5-10, as well as a magic item count from 5-11, divided between hidden and visible treasure. Finally the magic items each include text describing what they do. Most of the text descriptions are fine, but some could have used additional explanation.
Wooden Treasure Tokens: A huge set of wooden discs, each of which represents a different treasure. They come in ten colors: silver, gold, red, blue, green, purple, yellow, white, and black. The colors are distinctive and having this huge pile of discs for treasure is very evocative.
Bag: A black cloth bag used to hold the treasures so that you can blindly draw them.
Treasure Screens: Small cardboard player screens which allow you to hide your treasure. Helpfully each screen lists the treasure availabilities and the scoring rules on the back, so that players can easily reference them.
Timer: A sturdy plastic timer which marks off a minute.
Rulebook: A simple four-page rulebook printed in full color. A card reference in these rules would have been nice.
Overall the components in Dragon's Gold are attractive, and you get a good quantity of them for the price. I've awarded it a high "4" out of "5" for Style: quite good.
The Gameplay
The object of Dragon's Gold is to collect the largest value of treasure through careful negotiation. What I describe here are the "advanced rules". The basic rules don't include the treasure cards (which would reduce the chaos of the game if removed), and also value the treasures in different ways.
Setup: Each player chooses a color and takes the four adventurers in the color. He also takes a treasure screen and is dealt one magic item card.
Four dragons are placed face-up. Each dragon has two values for treasure: "known" and "hidden". A dragon's total hoard is equal to their sum. For example a strength 10 gold dragon might have 7 known treasures and 4 hidden ones, for a total of 11. However only the known treasures can be seen before the dragon is killed.
For each dragon a number of treasure tokens from the bag equal to its known treasure value are drawn and placed them on the dragon.
Playing Adventurers: Each turn a player chooses to play one of his adventurers on one of the dragons. Besides value (1, 2, 3, or 4), two of the adventurers also have special powers. The magician (1) can get you magic items, while the thief (2) can steal from other players.
Once you've played an adventurer, the turn's over ... unless you've killed the dragon.
Killing Dragons: A dragon dies when the value of the adventurers played on it equals or exceeds the dragon's strength. At this point any hidden treasures are added to the known treasures on the dragon.
All of the treasures have different values. Gold and silver are simply worth points. Magic objects (red) can earn you magic item cards and are also worth ponts. The gems (sapphires, emeralds, amethyst, amber, and diamonds) are worth points for a set and if you have the most of that color. Finally there's one special black diamond which is worth a lot of points, but is cursed.
After the hidden treasures are added to the dragon the timer is flipped, and the players have one minute to figure out how to divide the loot. They can't use any randomizing methods and they can't throw out any of that treasure. They also can't make any agreements about the future. Within those constraints everyone has to agree upon a split within the minute, else the treasure is all thrown out.
Afterward, if a player's magician was involved, he gets to draw one magic item card for each (red) magic object token he took.
If a player's thief was involved, after the negotiation is over he gets to steal one treasure token from another player involved. This occurs whether a split was successfully negotiated or not.
Afterward a new dragon comes out.
Using Magic Items: Players get magic item cards at the start of the game, and also throughout the game if their magicians claim red tokens. These cards can be played at appropriate times and let a player do various chaotic things. "Stinking Cloud" lets you move an adventurer to a different dragon, "Mirror of Exchanging" lets you move treasures between two dragons, "Ring of Confusion" lets you swap two players' negotiated shares after the fact, etc.. I don't particularly suggest using "Invisible Hand" which lets you secretly filch treasure when other players aren't looking unless everyone's very familiar with the game.
Going to Market: Halfway through the dragon deck is a market card. When this comes up players have a minute to exchange treasure tokens.
Ending the Game: The game ends after the treasure tokens have all been drawn from the bag and those dragons are killed. (As a result of this ending, the last couple of dragons won't have hidden treasure).
Then everyone sums up their points: 1 per silver, 3 per gold, 1 per magic item.
The gemstones are worth 5 points if you have a complete set of all five, plus 8-12 points for each set where you have the most.
The cursed diamond is worth 15 points, but you don't get to score any gemstones.
The player with the most points wins.
Relationships to Other Games
Dragon's Gold is a card management and negotiation game.
The card management comes about through how you decide to position your adventurers. It can actually be pretty subtle. You might place specific values hoping that other players will finish off a dragon (as you usually want as few people involved in a deal as possible). You might use thieves as a deterrent or as revenge. You might even place on a dragon planning to foul up a deal that everyone was involved in. You have to use up your adventurer cards before you can use them again, so there's some thought required here.
Negotiation is, however, the core of the game. This is the fastest-paced negotiation game that I've ever played, thanks to the minute timer. In style of play it reminds me the most of San Marco, because in that game you're similarly trying to divide up resources in a way that will make all parties happy. The difference is that San Marco is about a singular division, while Dragon's Gold is about the iterations that follow. Intrigue and Quo Vadis? are other fine examples of the negotiation genre.
Bruno Faidutti makes a lot of fantasy games and a lot of games with quirky, chaotic cards. This one fits right into both categories. It reminds me of quite a few other Faidutti designs. Thematically it reminds me of Draco & Co. (another fantasy games with a theme of dividing up loot) and Fist of Dragonstones (yet another fantasy game that uses wooden discs for coins and even features a red magic disc). Mechanically I'm reminded the most of Corruption, an overlooked Faidutti game which involves very similar mechanics for playing cards. I suppose you could also find some mechanical and theming similarities in Faidutti's classic Citadels. Bruno does like his thieves.
This game is part of the "Blue Games" series which are all small, inexpensive games by French designers which are generally quite social and support high player numbers.
The Game Design
Dragon's Gold is one of the more interesting and enjoyable negotiation games that I've played, and I'm not someone who particularly enjoys negotiation games. One of the other players in my review group said almost exactly the same thing.
The negotiation seems to work for two reasons. First, it's an interesting but constrained sort of negotiation, with the players trying to divide up a small set of items. Open-ended deals are explicitly forbidden, and this really helps to keep things moving. The game's also kept moving thanks to the minute timer, which is an excellent innovation that I think makes the game.
Some of the negotation possibilities aren't entirely obvious. For example, as you play through a game you can realize that forcing a negotiation to fail might be just as good as succeeding and getting loot. It can improve your position for the future and/or keep your opponents from benefitting.
Dragon's Gold's core negotiation is supplemented by other systems that work well. The card management is surprisingly tactical. It allows you to alternatively get into deals, discourage other players from deals, or even form temporary alliances with other players.
The magic items cards can be very chaotic, and some players won't like this, but if you don't, just don't use them. As was, they added some surprises to our game.
Overall Dragon's Gold is one of the best negotiation games that I've played, particularly given its filler timeframe. I've thus awarded it a full "5" out of "5" for Substance.
Conclusion
An excellent, filler-length negotiation game that is interesting and fast. It's supplemented by some card management systems that also work well, overall making it one of Bruno Faidutti's better card games.