Palatinus
is a filler majority-control game designed by Alessandro Zucchini, published by daVinci Games and Mayfair games.
Players: 2-5
Playing Time: 20-30 minutes
Difficulty: 2 (of 10)
The Components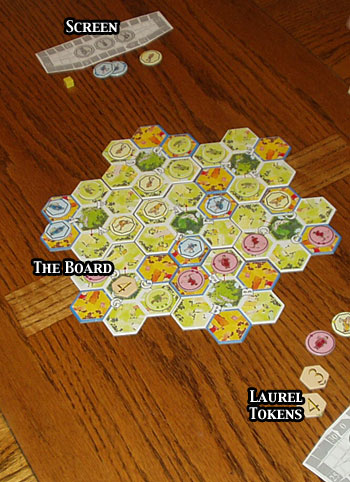 Palatinus comes with:
7 territory tiles
7 laurel tokens
12 scoring discs
60 inhabitants
5 player screens
5 scoring counters
1 rulebook
Territory Tiles: Seven 7-hex tiles, each of which shows one of the Seven Hills of Rome as well as surrounding fields and springs. They're printed on solid, linen-textured cardboard. The coloring is somewhat dull, with the fields and springs looking pretty washed out. One of the nice aspects of this game is that these hexes make the game entirely modular, and so each game can play quite differently.
Cardboard Tokens: The 7 laurel tokens, 12 scoring discs, and 60 inhabitants are all printed on full-color, linen-textured cardboard. The laurel tokens and scoring discs each show victory points in pretty plain gold lettering on beige tokens. There's some differentiation, with the laurel tokens printed on hexes and the scoring discs on circles, which helps keep the pieces straight.
The scoring discs--which are all marked 1 or 2--are very handy, because they're used when you have to divide various types of points between players. As a result when points are scored at the end of the game they've very easy to count because each player has their own pile of points which they can sum up.
The 60 inhabitants are all printed on circular discs, 12 per player color (blue, red, yellow, purple, and green). There are three inhabitant types per color: merchant, farmer, and soldier. Each disc also helpfully notes the value of the inhabitant--1, 2, or 3--as used when calculating merchant values. There's also some nice differentiation between player colors. Each color's tokens has its own unique picture for each of the three inhabitant types. There's also three different geometric shapes (hexes, circles, and octagons) used to surround the illustrations, which further help to clarify the different colors, all around a nice touch.
Player Screens: Flimsy, light cardstock screens. There's one for each color, which helps remind you who each player is. The backs of the screens contain mildly useful tracks for calculating influence when you scoring the game. (Most of the time you can figure the number in your head, but it's nice to have the track in case you need it.)
Small wooden cubes in the 5 player colors. They're used with the scoring tracks.
Rulebook: A four-page full-color rulebook. The rules are relatively easy to follow, though I'd still like to see daVinci Games learn how to paragraph better.
Overall, the components for Palatinus are mostly good quality, but pretty bland. Their utility is also pretty nice, with particularly good choices made on various scoring counters. On the whole Palatinus earns a high "3" out of "5" for Style, slightly above average.
The Gameplay
The object of Palatinus is to capture inhabitants with your soldiers and to gain control of the Seven Hills of Rome with your farmers and merchants.
Setup: The seven territory tiles are randomized, then laid down on the table, with one in the center and the other six surrounding it. The "6" point laurel token is placed on the center hex's hill. The remaining 6 laurel tokens (valued "3"-"5") are randomized and put on the other six hills.
Each player receives an assortment of merchants and farmers, some with wolves and the backside, and soldiers.
The Placement Phase: The intial phase of the game is played with each player placing one of their figures on their turn. These inhabitants may be placed on empty fields or springs, but not the hill spaces in the center of each hex. There are a few other notable rules.
First, some of the farmers and merchants show a wolf on the backside. These are used to disguise the placement of the figure. Instead of placing the inhabitant face-up, and thus displaying its type, as you do with the other figures, you instead place it face-down, displaying the wolf, leaving other places to guess whether you placed a farmer or a merchant.
The soldiers are very powerful, and must be placed when you have at least three other figures left. If you have four inhabitants in hand, and one is a soldier, you must place it at that type.
Play continues until each player has placed all his inhabitants.
The Scoring Phase: Now the seven hills of Rome are scored. Before this phase begins, you flip face-up any inhabitants which currently show a wolf, revealing what they were.
The seven hexes are marked "A"-"G", and so you score the hills in alphabetical order, first checking for soldiers, then for control.
Soldier. For each soldier on a tile, you count the number of adjacent farmers and merchants. (These guys could be on the same tile or on adjacent tiles; it doesn't matter.) If there are equal numbers of both inhabitant types, the soldier is removed. If, instead, there is more than one type than the other, the soldier's owner collects all of the inhabitants in the larger group, removing them from the board. They'll be worth 1 point each later.
Control. Now each player calculates his control score for the hex. Each merchant is worth influence points equal to the value of adjacent inhabitants: 1 for merchants, 2 for farmers, 3 for soldiers. Each farmer is worth adjacent points for adjacent fields or springs: 2 point per adjacent spring (including his own space), 2 point per adjacent unoccupied field or spring. The player with the highest influence sum for a hex gets the laurel token on that hill, or each tied player gets 2 points if there is a tie.
(Again, note that while you're scoring the inhabitants on the current tile, their values could [and will] be affected by adjacent inhabitants or spaces on connecting tiles.)
A Comment on Ordering. The ordering of the 7 hexes is extremely important as you can, for example, score with a farmer on hex A, even if a soldier on hex B will later imprison him.
Winning the Game: After all 7 hills are scored each player adds up his laurel tokens, plus one point per inhabitant his soldier captured. The player with the highest sum is the winner.
Relationship to Other Games
This is Alessandro Zucchini's second daVinci game, the first being the award-winning Lucca Citta (2005). Like his other game, this one takes a well-known gaming concept (here, majority control) but molds it into a complex but quick game.
As noted, Palatinus is an area-based majority-control game. It's very baroque, with lots of strange rules for placement and valuation, and thus may be reminescent of other baroque majority-control games like China (2005) and Kreta (2005).
The Game Design
My first impression of Palatinus was utter chaos. Through our first game we thought we were making intelligent moves, but when we actually did the scoring we were surprised by the interactions of the various inhabitants and the winner seemed somewhat random.
However on our second game we went in with a better understanding of several factors: that the hex ordering dramatically influences scoring, primarily in the influence of soldiers across hexes; that the valuation of farmers can dramatically change if nearby inhabiitants are captured; and that merchants can be inversely affected when nearby inhabitants are captured. With these reults in mind we were able to play a much-better reasoned second game. Despite that I did sometimes continue to feel like the game was too clever for its own good, because even on a second, more careful game I was surprised by one interaction.
Once you've seen how the game plays, and once you have a good handle on the interactions, there is a surprising amount of good tactics (and some strategy) in Palatinus. It has a fun, puzzle-like aspect where very intelligent moves are possible, but Analysis Paralysis doesn't become too extreme because of the blind placement of some figures.
I suspect that the possibilities of Palatinus are somewhat limited, but it really is a 20-30 minute filler, so that's not a big deal.
On the whole, Palatinus has a good amount of depth for a filler, if you're willing to figure out how it works, and so I've let it eke in a "4" out of "5" for Substance.
Conclusion
Palatinus is original and allows a good amount of strategi depth for a short, 20-30 minute filler. However it also is pretty complex, and if you don't carefully examine the repercussions of a play you can be very surprised by what happens. So, it's a good filler, but not necessarily for new players or as a one-off.