Hunting Party
is a fantasy deduction game by newcomer Seaborn Games.
Players: 2-5
Playing Time: 60-90 minutes
Difficulty: 4 (of 10)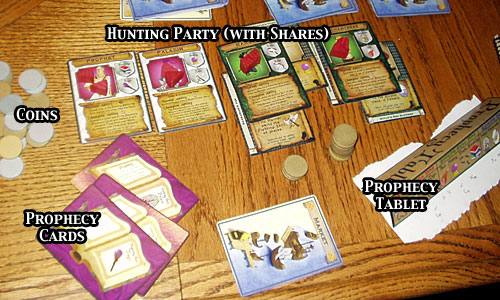 The Components
Hunting Party comes with:
121 cards
40 wooden coins
40 wooden pie pieces ("shares")
4 pencils
6 prophecy tablets
1 pad of paper
1 rulebook
Cards: The cards for Hunting Party are all quite large. They're printed on very heavy cardstock with a gloss coating. In size and weight these cards are some of the sturdiest that I've ever seen.
There are 40 character cards, 36 item cards, 32 dark agent cards, 12 prophecy cards, and 1 shadow card.
The character, item, and dark agent cards make up the main decks for the game. They're actually sorted out into 10 different decks--5 character decks, 4 dark agent decks, and 1 item deck.--each of which corresponds to a different location. When you lay them in a 4x3 grid, face-down (with the item deck divided in 3), they form a map of the world of Hunting Party, which is clever and evocative.
Each of the locations has specific attributes. The four dark agent decks each center (somewhat) on a certain type of combat, as do four of the five character decks. This is all noted on the card backs with appropriate icons, and so you have a little bit of control over what you'll be drawing based on where you draw from. The four dark agent decks are also of varying difficulty, which gives you the opportunity to choose how tough of a foe you want to face.
The layout of the cards is generally mixed. There's consistent layout on the cards; it's attractive and higlights the various elements of the cards. Unfortunately a cacophony of fonts has also been used, which makes the cards very distracting, and sometimes hard to read. (Fortunately the most hard to read text, which is in colored italics, is the color text.) Some of the layout also doesn't really place enough emphasis on the items you need to know about, mainly skills. In particularly the backs of the cards, which so carefully note the combat skills for each location, depict that information small enough that players had troubles reading it from across the table.
Every card has special abilities described in text, and icons have helpfully been included to tell you exactly when and how those icons can be used. Some of the icons (in particular, a pair of circular arrows) are context-free enough, however, that you won't know what they mean unless you look them up or become more familiar with the game.
The artwork is also pretty mixed. First there's a fair variety of styles, running from computer work to colored line drawings. (The cover of the box, which mixes many of the character drawings, looks busy and confusing because of this mixture.) Beyond that much of the art is amateur: not the sort of thing I'd expect in published work. Unfortunately the card backs which are the centerpiece of the game table when you're playing, are among the more amateur works. The computer artwork is some of the best, and runs the gamut from average to good.
Wooden Bits: 30 gold-colored wooden coins and 10 silver-colored wooden coins, each of which is a large wooden disc. In addition, there are 8 pie pieces in each of the 5 player colors (red, blue, yellow, purple, green); together each player's "shares" form a complete pie.
The wood dyeing isn't to the quality of most wooden bits I own. The pieces feel unfinished, and the colors all look like they got super-saturated. As a result the blues and greens are almost identical. But that won't be a concern if you play a 3-player game, which is what the game is designed for. (More on that later.)
Pencils & Prophecy Tablets: Much of the game is deduction based, where you're trying to figure out three elements from a set of 12. Thus each player has a "prophecy table" which is a piece of cardboard that you fold in two, which lists all 12 prophecy skills. There's then a huge pad of paper which comes in the box, and which you slip under the tablet to mark off elements as you discover them.
The tablet & paper are both good, high-quality pieces. The tablet is full-color, glossy, and a very sturdy cardstock, while the enormous tablet has a ton of paper in it.
Unfortuantely, they're also not the best way to do this. A small chart which you could better hide and which you could use to check off the 12 elements would have been much easier & more efficient. Beyond that, the tablet as it exists actually isn't quite as wide as the tablet, making it hard to mark the outermost skills.
Rulebook: A 22-page full-color rulebook. It's spiral-bounde and printed on glossy, heavy cardstock, and is overall very impressive. The rules have been carefully laid out, with each 2-page spread covering a specific ruleset; in addition, those rules are all marked through tabs at the side of the rules. There are considerable examples for each ruleset, always on the right-hand page of a spread. Overall these rules are just amazing.
On the whole, the components of Hunting Party mix good and bad. The quality of the components is generally very high, with the enormous, sturdy cards and the glossy, spiral-bound rulebook better quality than just about anything I've seen in any game. However this is marred by a lot of elements that I'd ascribe to a first-time publication: poor artwork, quality-control issues with the wooden bits, and usability problems with the card layout.
I've averaged this all out and let Hunting Party eke in a low "3" out of "5" for Style: slightly below average.
The Gameplay
The object of Hunting Party is to figure out how to fulfill the prophecy to kill the Shadow ... and then to do so.
Setup: Each player gets a prophecy tablet and a piece of paper. The 12 prophecy cards are then shuffled, and one of each type is given to three different players, while the remaining 3 cards are placed under the Shadow. The cards given to the Shadow define what Fighting skill, what Seeking skill, and what Guiding skill are required to kill the Shadow. Each of the three players, meanwhile, will know one of each skill which isn't required.
Each player also takes 3 pieces of gold and a set of 8 "shares", which are one-eighth pie pieces, which will later define what share of a reward a player gets from a bounty.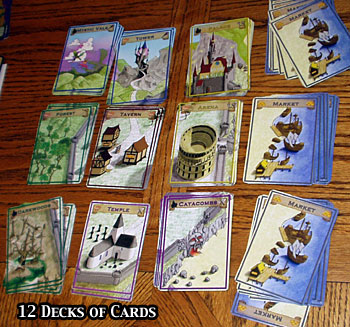 The 12 decks of cards are shuffled and laid out in a 3x4 grid. That's 5 hunter locations, 4 dark agent locations, and 3 market decks.
Finally, each player selects a character by drawing from one of the five "Hunter" decks. Four of the hunter decks are marked with a specific Fighting skill (Subdue, Melee, Range, or Magic), which is featured somewhat more often in those cards. Players will probably draw from a deck which has a skill that they think might be required to kill the Shadow (e.g., not the Fighting skill that is featured on one of their prophecy cards).
Killing the Shadow. The whole game centers around the prophecy to kill the Shadow. There are four Fighting skills (Subdue, Melee, Range, magic), four Seeking skills (bait, socery, tracks, knowledge), and four Guiding skills (Palace, Catacombs, Darkwoods, Magic Vale -- the four Dark Agent locations).
All but one of each card type is spread out among the players. The goal of the game is thus to figure out which cards are held by other players, but to do so a player must have Hunters matching the skills that he's trying to get more information on. Then, a player must have the right set of skills, with two of the appropriate Fighting skill, to actually kill the Shadow.
About the Hunters. The player's character is a hunter. In addition, a player may hire more hunters over the course of the game. Each hunter has several attributes. First they have two skills, one each from two of the three categories (Fighting, Seeking, Guiding). Second each has a "special ability", which is a relatively notable ability, and third each character has a "champion" ability, which is a very powerful ability.
Abilities tend to be somewhat chaotic, and can throw a game off in one direction or another. Think CCG-card special abilities. Both normal and champion abilities have various costs, including paying 1 or more gold, forfeiting your turn, or spending fatigure (which means that player can't hunt). Some of the less powerful abilities have no cost, though they can only be used once a turn.
You automatically get to use the champion ability of your own character. For other hunters that you hire you can use their champion ability if you give them the item that matches their name (e.g., you give the "Barbarian" the "Barbarian's Axe").
Order of Play: Each turn a player can take one of three actions:
Hire a Hunter; or
Purchase Items; or
Hunt
Hire a Hunter: The active player chooses one of the five hunter locations and draws the first card in that pile. An auction is then held, but the drawing player gets to decide if he goes first or last in the auction.
The auctions are simple once-around affairs, with each player either bidding more than the previous player or passing. However, they're unique in the currency that you're bidding with. You're bidding "shares", which is to say "shares" of future bounties that you collect by capturing either dark agents or else the Shadow himself.
You have 8 shares total, and any shares you haven't promised to hunters that you hire instead go to you. So, for example, if you succesfully win a hunter with a bid of 2 shares, then later capture a dark agent worth 8 gold, you'll earn 6 gold. (The other 2 gold goes to the hunter, but that actually isn't marked.)
Adjusting Shares. There are a few rules in the game which can adjust shares. In particular some characters hate other characters, increasing costs, while others reduce costs for other characters. This introduces a little bit of variability into the auctions because the hunters can have different values to different players.
Disbanding. You can later "disband" a hunter to get him out of your party by paying his number of shares in gold. You can also do one "emergency disband" which discards your whole party, and starts you from scratch (and may be necessary if you get yourself into a very bad "share" situation).
Purchase Items: The active player draws one card from each of the three Market stacks. He may keep between 0 and 3 of these, but must pay 1 gold for each he keeps. You can then assign these to hunters at any time (but can only hold 3 in your hand, unassigned, at the end of your turn).
Items in various ways make characters better. Some give skills, some adjust shares, and some adjust bounties. Items are defined as either "body", "hand", "head", or "foot" gear, and each hunter can have one of each (except you can't give equipment to your own character). There are also one-use potions which have various effects.
Hunt: Hunting is, ultimately, how you figure out the Shadow's vulnerabilities, and finally kill him.
To hunt you choose a hunting party, which is some set of your character and hunters. You then list a Fighting skill, a Seeking skill, and a Guiding skill. Your hunting party must contain characters with each of the skills. Going clockwise around the table, each player can now thwart your hunt by showing that he has one of the cards listing one of those skills.
If someone shows you a card, this means that you don't select the right set of three skills to find the Shadow. (And if it gets all the way back to you and you have one of those cards you must admit that you can thwart the hunt.) In this case you're ambushed by a dark agent as you hunt for the Shadow. You draw a dark agent card from the Palace, the Catacombs, the Darkwoods, or the Mystic Vale (depending on which Guiding skill you picked). Each dark agent lists which fighting skill or combination of fighting skills is necessary to defeat it. If your hunting party includes those skills, you defeat the dark agent and get a bounty, some percentage of which you'll get to keep; else one of the members of your hunting party is killed.
If no one has the cards, you've discovered the three skills needed to find the Shadow. As long as you have two of the appropriate fighting skill, you get a 40 gold bounty, to split as normal. Otherwise a member of your hunting party is killed.
Winning the Game: The game ends when the Shadow is killed; the player with the most gold then wins.
Shadow Variants. There's a variant in the rules which uses one of the pie sets as a timer. Whenever a party member is lost in a hunt one share is put on the Shadow; if all 8 are added, he wins the game. I think this is a good variant to use, because it keeps players from procrastinating forever if they're afraid they might not be in the best position to attack the shadow.
Relationships to Other Games
Hunting Party is a deduction game with card management and auction elements.
The deduction is really the heart of the game, which I would not have guessed before playing. It's a pretty classic deduction, where you're trying to match up three hidden elements, much like Clue (1946). Other deduction games include Sleuth (1967) and Mystery of the Abbey (2004). Hunting Party is generally simpler than most of the other deduction games, with just four possibilities in just three categories, of which you know 3 of the 12 total at start.
The auction element of Hunting Party is quite original. The once-around auction is a well-known good auction design, used in Modern Art , Ra and many others. Hunting Party puts a unique twist on it by giving the auctioneer the choice to go first or last in the bid, something that makes a big difference because of the tight constraints on the "currency". The currency itself is very unique too, because you're effectively bidding with future gains. Because you only have 8 shares this creates real tension for just a one-point bid difference.
The card management is simple, but notable. You have to figure out how to get the sets of skills you need first to track down the Shadow, then to actually kill him.
The Game Design
Hunting Party has three notable elements going for it in the game design: enthusiasm, innovation, and originality. There's really a lot that's new here, especially in the auction mechanisms described. The combination of American fantasy and Eurodesign isn't really as original as Seaborn's advertising makes it out to be (for example, see Dungeon Twister or Lord of the Rings), but it's not exactly common either. Hunting Party also mixes in some very American mechanics with powerful special character abilities of the type you find in a lot of CCGs (and some Eurogames like Blue Moon and many of Bruno Faidutti's designs). The result of mixing all this together is something fairly unique on the game shelves.
As already noted, the auction design is good. I've seen enough bad auction deisgns to know that this is something to appreciate. The auctions play fast, include hard decisions, and have some good innovation.
I'd also say that the deduction is fair. By carefully listening to other players' queries I was able to make some good educated guesses at what cards they were seeing, and this gave me the jump to get to the Shadow first.
Finally, I'd comment that the special powers add a lot to the game. Some pure Eurogamers might not like them, but they add color, and also a lot of replayability to the game because you'll only see a small set during any individual game.
I do have some concerns about the game. It played a little slow our first time out, but I suspect that would be resolved as we became more familiar with the system. I also have some concerns about the card management because it can be a bit tough to get the double fighting skill that you need to defeat the Shadow, but I'd need to play more to discover how much of an issue that is.
I'll also comment that the game is really designed for 3 players. With fewer you have to have some prophecy cards open, and with more you have to share some, neither of which would be ideal.
On the whole Hunting Party feels like a pretty average game, but the innovation of the design and the rare mixture of elements draws that up a bit for me, so I've let it eke in a "4" out of "5" for Substance: a good game.
Conclusion
Hunting Party is a real hybrid: it mixes fantasy background, Euromechanics, and American CCG-like cards. On the whole the combination works. The heart of the game is a pretty simple deduction system, but that's supplemented by a smart & innovative auction system, and some interesting card management. If you don't mind some chaos in your game, and you're looking for something different in the realm of deductions, this is a good choice.
Hunting Party is a small press game, available at their web site.