Cartagena
is a simple play-and-move card game by Leo Colovini, published by Venice Connection and Rio Grande Games.
Players: 2-5
Time: 30 minutes
Difficulty: 1 (of 10)


Components
Cartagena comes with:
6 board segments
1 boat
103 cards
30 pirates
2 rulesheets
Board Segments: Six full-color passageways, printed on thick, linen-textured cardboard. Each one clearly depicts the six pirate symbols (bottle, skull, hat, dagger, key, and revolver). The six segments simply fit together, and form a new maze to escape through every time. The die-cutting on the boards is pretty good, but left a few bits on the edges of my boards that are still there, many plays later.
Boat: A cardboard linen-textured boat, to place escaping pirates upon. It probably should have been printed with the six pirate symbols, but that's not a big deal.
Cards: Half-size cards which are slightly flimsy. Each one depicts one of the six pirate symbols, both in the middle and (helpfully) at the corners. There's also an arrow card only used in an advanced version of the game.
pirates: 30 wooden pirates in the 5 player colors (blue, red, yellow, green, brown). They're nicely carved, but a bit phallic.
Rules: A one-page black and white rules sheet which explains all of the basic rules in plain, but clear form, and a color depiction of how the cards should be laid out for the advanced version of the game.
Overall, the quality of the components runs from OK (the cards) to good (the cardboard). They're generally easy to use, and I appreciate the modular board. The game overall earns a high "3" out of "5" for Style. It'd be a solid "4" if the cards were better quality.
The Gameplay
The object of Cartagena is to get your six pirates out of the prison, and into the waiting boat, before any other player does.
Setup: The six game board pieces are randomized, then placed end-to-end to form a continuous path. The players all place their pirates at the start of the path. The boat is placed at the end of the path. Each player draws an initial hand of six cards.
The Board. The board forms a continuous passageway made up of six sections. Each section includes all six of the pirate symbols, and thus there are 36 spaces total between the start and the boat, with each symbol repeated six times. It's these that players must use in order to move forward in the game.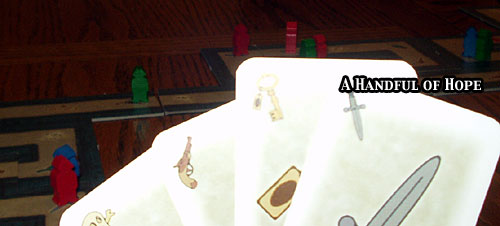 Order of Play:
Each turn a player may take up to three actions from the following two possibilities:
Move a Pirate Forward
Move a Pirate Backward
Move a Pirate Forward. You move a pirate (which can be any of your six) forward by playing a card. The pirate advances to the next clear space depicting the same symbol. This could be the next symbol, or you might get to skip a couple of symbols if other pirates are on them. If the symbol doesn't appear between your pirate and the boat, he jumps all the way to the boat.
Move a Pirate Backward: You move a pirate (which can be any of your six) backward into the previous group of 1 or 2 pirates on the board (which may be your own pirates, other peoples', or some mix). You then draw cards equal to the number of pirates that you moved back into (1 or 2). You may never move back into a group of 3 pirates.
Winning the Game: You win the game when you get your sixth pirate into the boat.
The Advanced Game: There is an "advanced" game, where all cards are open, including the next several that will be drawn. I've never seen anyone play it, and personally think it makes a simple game way too complex.
Playing the Game
Cartagena is one of those games that's so simple that it's really not immediately obvious how the game will play. However, there's a decent amount of gameplay tucked into this game.
In Cartagena you and all the other players have a fairly similar set of resources--a set of six cards--and identical ways to expand those resources. Thus, victory in the game ultimately comes through making better use of your cards (and turns) than other players.
When you play cards you thus try and use your cards for maximum advantage: either a big jump with one card (you want to move 10 spaces with a card, from the start of one section to the end of the next, rather than 1 space, from the end of one section to the start of the next) or, even better, skipping over a "chain" of occupied symbols (for example, three skull spaces, each of which is occupied by another piece).
You also want to do your best to back up into a group of 2 rather than 1 (and in fact may move a pawn out of a group of 3, just to drop him back into it).
Conversely, you want to do your best to make things harder for your opponents, which primarily means breaking up chains at the end of your turn, but can also involve breaking up groups of 2 pirates.
Relationships to Other Games
Cartagena is a classic play-and-move game where you play cards in certain groupings in order to move pawn(s) forward on a board. Other entries into the category include Reiner Knizia's slightly more complex Marco Polo Expedition and the comparatively baroque Around the World in 80 Days. All of these games allow meaningful collection of cards which keeps them from being entirely random, because you can strategize.
Cartagena is the simplest and quickest of the games mentioned, but still has some depth of strategy, along with great tactics.
The Game Design
As already noted, Cartagena is a simple game with good tactical depth and some strategy. You might think a little bit on your turn, puzzling out an optimal way to use your cards & actions, but overall play is pretty quick. The box says that the game runs 30-45 minutes. Most of the games I've played run around 30, but I've had some go out to 45 or so, and that's long enough that the game can overstay its welcome. Fortunately that doesn't usually happen.
Beyond that all, I think the game system is pretty clever: a very interesting system given how simple the mechanics are.
On the bad side, the game is very thinly themed; even for Leo Colovini the pirate veneer is thin here. You just can't stop and think why playing a pirate's hat gets you closer to the boat. Despite that, the way the pirates run forward and duck back is kind of a neat simulation of a prison escape.
In addition, Cartagena can be a tiny bit unforgiving. There are situations where you can end up without cards and largely without plays. I've never seen anyone get totally stuck, but I've seen them come close, especially at the end.
And finally, though I say there's strategy, I've never actually figured it out. I've lost just about every game I've played of this game, and badly. So, understand that my statement that there's strategy is at least partially a guess. I think that good moves will overcome the implicit chaos, but maybe the designer pulled the wool over my eyes.
Overall Cartagena is a filler that I'm happy to occasionally play. It's not my favorite filler, but I enjoy it as a change of pace, and thus it earns a low "4" out of "5" for Substance: pretty darned good.
Conclusion
This very lightly themed piratical escape game is a fun play-and-move game. Clever card play is the heart of the game, and the depth is just right for a medium-length filler. It's not my favorite filler, but it is one I'm happy to play several times a year.