Ticket to Ride Europe
, the sequel to Alan R. Moon's
Ticket to Ride
game, is an entirely new, standalone release that changes up some of TtR's rules and also sets the whole game against a European background.
Players: 2-5
Time: 30-60 minutes
Difficulty: 2 (of 10)

As with other Days of Wonder games, this one is simultaneously released in a couple of different languages, including English. The shipping date for Ticket to Ride Europe is in early April, but I'm sure that you can reserve a copy at your friendly local game store now (which is probably your first indication that, yes, I liked the game).
Bits of this review, particularly the gameplay, mirror my original review of Ticket to Ride, which has similar gameplay and components.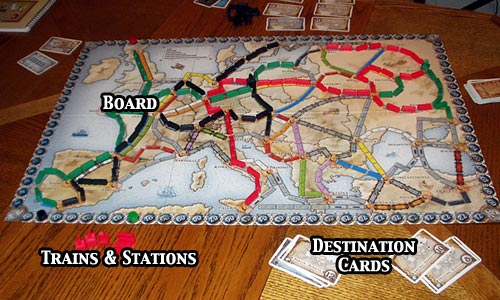 The Components
Ticket to Ride Europe comes with the high-quality components that, by now, you probably expect from Days of Wonder.
1 game board
240 plastic trains
15 plastic train stations
5 scoring markers
158 cards
1 rulebook
1 online access number
Game Board: A six-panel gameboard printed on heavy, linen-textured cardboard. The board depicts a map of Europe circa 1900 with train routes, of different colors and different lengths connecting together various cities. A scoring track surrounds the board, running 1-100.
The background of the map looks like a period pencil drawing. It's a bit plain, but anything more would impact the tracks that run over the map.
The routes are (as a result) easy to make out. The colors on the map match the cards nicely (better than in the original TtR) and each color also has an associated icon that's used on both the board and the cards, so that even colorblind gamers can make out what's what.
To improve the usability of the game, there's a scoring chart on the board which lists the scoring value for each length route.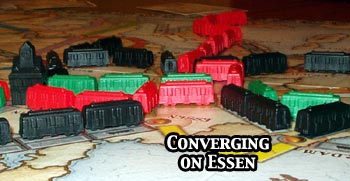 Plastic Bits: The trains are simple plastic train cars molded in the five player colors: red, black, yellow, green, and blue. They're made out of sturdy, hard plastic, with fairly simple sculpting. Each player gets 45 trains; there are also 3 extra per color, for replacement; they come in their own little baggy, and you should leave them there, so that they don't accidently get mixed in with the 45 intended for play.
The stations are also in the player colors (3 each), and are sculpted very similarly. Unfortunately they're just a little too small to actually be able to run the trains through them, but that's mainly an aesthetic issue, because you put them right over a city when you place them on the board, not over trains.
Wooden Scoring Markers: These are thick wooden discs painted in the five player colors. They're used on the score track.
Cards: All of the cards are printed on full-sized, linen-textured cards of medium thickness with rounded corners. The production is quite high-quality. It's worth mentioning again that these cards are full-sized, not half-sized, like they were in the original game. They looked a bit awkward to me at first, but after a couple of plays I came to appreciate them, because they're much easier to shuffle.
110 of the cards are Train Cards. Each of these show a full-color drawing of a type of train car in one of the 8 track colors (pink, white, blue, yellow, orange, black, red, or green). They're all attractive, with nice period artwork of various train car types.
(Many first time players are also a bit confused that there are 5 player colors which have nothing to do with the 8 track colors; the player colors just list who's who, while the track colors are integral to actual gameplay. Within a few turns first-time players seem to get over this issue.)
46 of the cards are Destination Ticket cards. These are divided between six long routes and 40 regular routes, though the two card types have identical backs. These each show a map of Europe with two cities marked and a score for the ticket. They're attractively produced. The long routes have some blue bordering on the front, to set them off. It's worth noting that there are almost 50% more destination tickets than in the original TtR, which adds some nice variety to the game.
There's also 1 Summary card, which shows route scoring and 1 European Express bonus card, which is just a reminder of a victory condition.
Rulebook: A 8-page glossy rulesheet, absolutely filled with examples and large, clear pictures.
Online Access Number: This is a number which gives you access to Days of Wonder's online games--currently computer versions of some of their smaller card games and the original Ticket to Ride. Presumably an online Ticket to Ride Europe is on the way.
Box & Tray: Ticket to Ride is packaged in a fairly standard medium square box. The tray inside is well designed. There's spaces for each component, from the train and cars to the little scoring markers.
Overall, like all the Days of Wonder big-box games to date, Ticket to Ride Europe is beautifully produced with components that are beautiful, evocative, and easy to use. If there's a way to get more people playing board games, this type of superb packaging is it. Ticket to Ride Europe, no surprise, earns a full "5" out of "5" for Style.
The Gameplay
If you're familiar with the original Ticket to Ride much of this will look familiar; however, you should read the sections on "Setup: Destination Cards", "Claim a Route: Tunnels & Ferries" and "Place a Station", as they address the changes in this new game.
The goal of Ticket to Ride Europe is to build connections between various cities in turn of the century Europe.
The Map: The Ticket to Ride map depicts about 45 cities, scattered across Europe, Russia, and the Middle East. Each city is connected to 1 to 5 other cities by routes. (Most cities seem to have 4-5 routes, meaning you always have a lot of choices as to which ways to go.) A route is a set length, between 1 and 8 spaces, and typically is one of eight colors (though approximately a third of the routes are instead gray, which we'll see is a special, free-building color). There's typically only one route between any two cities, but many of the more popular paths instead have two routes, which are often different colors. There are also a couple of special types of routes: ferries (which go across water) and tunnels (which go through big mountains).
Players will claim these routes throughout the game using Train Cards of the appropriate colors.
Setup: Each player chooses a color at the start to mark his routes and takes the 45 trains and 3 stations in that color. He also receives 4 Train Cards and 4 Destination Cards (of which he may discard up to 2).
Further, five Train Cards are flipped face up next to the draw pile.
Train Cards. These 96 cards depict a color of train, related to the colors of the routes on the board. There are 8 colors total: pink, white, blue, yellow, orange, black, red, and green. There are also 14 "wild cards"--locomotives which may be used as any color.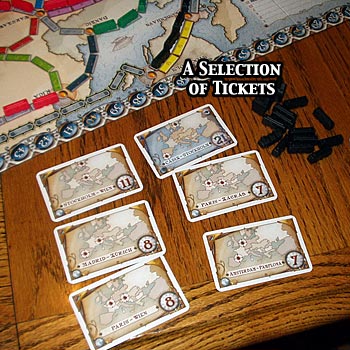 Destination Cards. These 46 cards list two cities each (e.g., Zurich and Brindisi") and a score (e.g., 6). Players have to contiguously connect the two cities with their trains in order to score the points, and are penalized if they don't (hence the opportunity to discard).
40 of the cards are "normal" routes, which have a minimum length (and thus score) between 5 and 13 points. However, there are also six "long" routes which are valued at either 20 or 21 points and are really long trips, like Cadiz (in Spain) to Stockholm. At the start of the game, the 4 tickets that you're dealt include 1 long ticket and three normal tickets, then all the unused long tickets go out of the game--so you have just one chance if you want to make a really long route.
Order of Play: Each turn a player takes one of four possible actions:
Draw Train Cards.
Claim a Route.
Draw Destination Cards.
Place a Station.
Draw Train Cards: There are always five face-up Train Cards next to a face-down deck of the same. You get to, one at a time, take two cards either from the face-up cards or the draw pile. Whenever you take a face-up card, you replace it from the draw pile. There's one catch: if you take a face-up engine, that counts as two of your draws. Clearly, you generally want to make draws that help you complete sets to claim routes.
Claim a Route: To claim a route, you must lay down as many cards of the appropriate color as are needed to completely lay out the route (which will be between 1 and 8, depending on what's depicted on the board). If the route is light gray, you may instead lay down an appropriate number of matching cards of any one color. Locomotives are wild cards, which may be used to substitute for any other color.
When you claim a route, you place your trains in the route boxes. This will keep anyone else from claiming that exact same route (though, as noted above, sometimes a pair of cities have two potential routes between them). You also score points: 1 for a length 1 route, 2 for 2, 4 for 3, 7 for 4, 15 for 6, or 21 for 8. There are no 5- or 7-length routes on this board. Clearly, longer routes are more valuable, but there also aren't a lot of them: most routes on the board are between length 2 and 4.
You can only claim one route each turn, no matter how many Train Cards you have.
Tunnels & Ferries. There are two types of special routes depicted on the board, tunnels and ferries.
Tunnels might take more cards than the number of spaces on the board. When you decide to claim a tunnel route you lay out your cards, then flip up 3 cards from the draw deck. Any cards that match your selected color (including engines) mean that you have to play that many more cards of the appropriate color to finish the route. If you can't (or don't want to) you take your cards back into your hand, having effectively lost your turn. You can try again next turn, if you desire.
Ferries are gray routes which show one or two engines on the track. When you lay out the appropriate number of cards, it must include at least that 1 or 2 engines.
Draw Destination Cards. Alternatively, you can draw 3 Destination Cards and return up to 2 of them.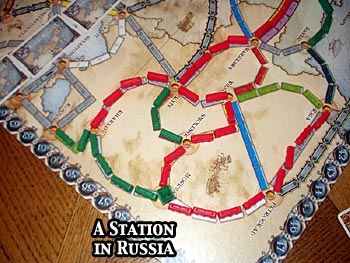 Place a Station. Finally, you can alternatively play a station on your turn. You select a city without a station in it currently, then you play 1 card if it's your first station, two matched cards if it's your second, and three matched cards if it's your third. Stations will help you connect routes in the endgame, but playing them loses you points.
Ending the Game: The game ends when one player finishes a turn with 2 or less trains in his stock. At that point everyone (including the player who's almost out) gets one last turn. Then the game is done and scoring occurs as follows:
everyone already has points for their routes played during the game.
If a player successfully completed a Destination Card by forming a contiguous route between the two cities, he adds the points from the card to his score, else he subtracts them (ouch). However, stations can be used to connect these routes. If you have a station on the board you may place it over one of the routes connected to the station's city, and owned by an opponent; you may then use that route for connecting up the cities shown on your destination cards. You can only use one foreign route adjacent to each station.
Whomever has the longest continuous path of routes gets the European Express bonus, worth +10 points. It's worth noting that those station connections don't count here.
Each unused station is worth +4 points.
The player with the highest score wins. Ties go to the player who completed the most Destination Cards.
Two & Three Player Games: If you play with two or three players there's one slight change: for the double routes, where there are two routes between a pair of cities, only one can be used. This help keeps the game very tight.
Relationships to Other Games
Ticket to Ride Europe is the second game in the Ticket to Ride game series, the original game having very slightly simpler rules and also featuring a map of the United States rather than the Europe. As already noted, the new features in this game are the long tickets (which used to be mixed in with the rest), tunnels, ferries, and stations.
The map of Europe also feels very different from the map of the United States. Europe's map has more short routes, and thus it's harder to go blazing across the whole map in a couple of turns. The European map is also more focused on the center of the map--with fierce competition often emerging through the middle of Europe--while the United States map was more focused on the edges of the board, which had valuable long routes. Finally, in this new game, it usually feels like you have more choices of how to get from point A to point B, especially across central Europe; this can paralyze you a bit in early play, but after several games I now really appreciate the variety of moves possible.
There are also almost 50% more destination tickets in Europe than in the original release. This adds quie a bit to the variety. On the downside you more frequently draw tickets that are nowhere near your route, but this is offbalanced by the fact that most destination cards are pretty short, and that you can also use stations if you end up trying to build in an already crowded part of the map.
I've saved discussion of the rest of the new game design elements for the Game Design section, below.
Broadly, Ticket to Ride Europe is a connection-based railroad game centering on set collection. It's also one of many railroad games designed by Alan Moon.
Finally, Ticket to Ride Europe is also the fifth game in Days of Wonder's Big Box series, which have generally included beautifully produced games featuring light strategy. The other games which will probably appeal to many of the same players are the original Ticket to Ride, Pirate's Cove, and Mystery of the Abbey.
The Game Design
I really enjoyed the game design of the original Ticket to Ride, which was my most-played game of 2004, running up a shocking total of 60 tabletop plays, 37 more than second-place San Juan. Thus it shouldn't be a surprise that I like this game too. It has all of the good points of the original game, which include: fast & simple, real strategy (in both which sets you're going to collect & which routes you're going to take to make your connections), great brinkmanship (as you hold off on playing cards to take your routes because there are more good cards up), and tough decisions (a combination of all of the above).
In addition, the newer game elements in the Europe game manage to change up the game play, and in some places improve it. I've already talked about the maps and tickets. Here's what the other new items do for the game:
Long Routes: The new, long routes help decrease the randomness of the game; in the original game you could luck out and get a couple of long routes which largely overlapped. Here that's no longer possible because each player only gets one 20-21 point ticket, guaranteed.
Stations: The stations reduce the importance of one of the more frustrating aspects of the original game: blocking. This is relatively important, because with there only being six long tickets, you can often figure out what someone is going for. However, though the stations reduce the importance of blocking, it doesn't do away with that strategy altogether, because a block can still cost a player his longest route, and some points at the end of the game. It's a nice balance, as opposed to the original game where an all-blocking strategy, which could work well in a 2-player game, might drive you up the wall.
Tunnels & Ferries: The biggest effects of the tunnels and the ferries is just to change up the game a little bit. The tunnels add some luck (with their draw) but also some strategy (as you decide whether to avoid tunnels or not). These two new types of routes also add some nice variety to the board, as different parts of the board place more importance on these new route types, as thus you might have notably different play from game to game.
When I originally reviewed Ticket to Ride I said that it might not be deep enough to sustain continued play. A year later I can say that that's not true. With that knowledge in hand, I really don't have much to say negative about the game.
Ticket to Ride Europe is, like the original game, a fairly light strategy game. This one has a few more strategic elements, but that doesn't change its core gameplay, which is simple. However, for that category of game, it's one of the best I've played. On the whole I've given this new game the same rating as the original: "5" out of "5" for Substance. The game's no longer totally original and innovative, but this new variant offers enough new and varied play that it makes the game exciting and new again, and I think even improves the gameplay a bit (mainly through the segregation of the ticket types and the new variety of gameplay).
Conclusion
Ticket to Ride Europe is the second game in the Ticket to Ride series, by Alan R. Moon. This new game features a new map, new tickets, and a handful of new rules, that altogether manage to make the new game feel very different, and even improve the core game system in some ways. If you liked the original Ticket to Ride I highly suggest picking up this one as well.
If you've never played Ticket to Ride before, this one is probably better for a slightly more serious player, while the original is probably better for a more casual gamer, but that difference isn't huge.