Mister Bill
is a kid's old-maid type card game, produced by daVinci & Mayfair Games.
Players: 3-8
Time: 15-20 minutes
Difficulty: 2 (of 10)

The Components
This game comes with 74 cards & a set of rules.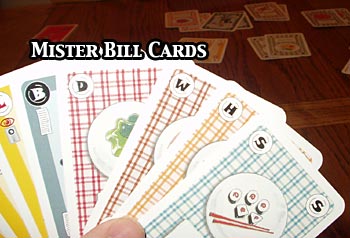 The Cards: As with all daVinci card games, this one comes with high-quality, full-color, linen-textured cards. There are 47 play cards, 8 team cards, and 19 score cards.
Play. The play cards include 24 dishes, 20 waiters, and 3 Mister Bills (the "Old Maid" of the set). They all feature fine (though not exceptional) cartoony artwork.
Each of the dish cards show a specific food, with a colored background and a letter in the corners, the latter two of which are used to easily distinguish the cards. Some of the colors are unfortunately too close in hue (particularly a red, a brown, and an orange), and many of the letters are a bit hard to read because they use a cute font. I was able to easily tell everything apart, but some of the players had minor problems.
Each of the waiter cards shows a unique picture of a waiter, with a specific letter, and also an icon listing the card's special powers. The icons were in general quite good for helping players to figure out what the cards did.
Finally, the Mister Bill cards are quite unique from everything else, which is appropriate, because they're the cards you don't want to get stuck with.
Team. The team cards are color-coded, and easily separate players into groups of two. They're helpfully numbered so you just pull out the right number for the number of players.
Score. The score cards are color-coordinated for what round you give them out in (1st, 2nd, or 3rd), and each shows a point value on the front. They were good to have because you got to leave them out in front of you, and it was really obvious how many points any player had.
Rulebook: Like all the daVinci games, this one had a long, folded rulesheet in 4 different languages, English among them. I always find that they look a little intimidating. These rules were simple enough, and did a good job of explaining the game.
Box & Tray: Finally, also as with the other games in this Allegro line, this one came in a thin cardboard box with a really sturdy, plastic card tray inside. The tray keeps the cards sorted into two piles, and is really terrific.
On the whole, Mister Bill's components are top-quality, fairly pretty, and fairly utilitarian. It earns a high "4" out of "5" on Style as a result: well above average.
The Gameplay
The object of Mister Bill, as with Old Maid, is to get rid of your cards as fast as you can.
Setup: Team cards are randomly dealt out to group players into sets of two; there will be a player who's on his own if there are an odd number of players. The deck of playing cards is then entirely dealt out. Finally, each player tosses out all the pairs of cards that he has, leaving himself with just singletons.
Order of Play: On a player's turn he does the following:
Draw a Card from the Player to the Right. As usual, pairs are discarded.
Optionally, Play a Waiter Card.
The Waiter Cards: With the exception of Mister Bill, the 47 cards in the play deck are grouped into fours. There are 6 groups of food and 5 groups of waiters. Whenever you get a pair of food or waiters, you discard them.
However, singleton waiters can be played (optionally, and only one per turn) for a special effect. Different waiters allow you to: exchange a card with a player; exchange your hand with a player; force a player to accept one card from each other player; force everyone who has a Mister Bill to show it; force everyone to give a card to their lefthand neighbor.
Not only do these waiters introduce a little something extra into the game, but it's also a way to get rid of otherwise annoying singletons.
Ending a Round: When both players in a partnership get rid of all their cards, then they go out. (The same thing happens if a solo player gets rid of his cards.) Each of these players is then given the highest remaining scoring card; there's a set for each round. The cards in the first and second round are worth 1-4 points, the cards in the last round 1-8.
The round ends when only one player (or partnership) is left playing. They get no points (and will get stuck with the bill!).
Ending the Game: New partnerships are randomly selected on the second round, which plays like normal. On the third round there are no partnerships. Instead, each player plays on their own.
After the third round of play, each player counts up his point cards. The one with the most points is the winner.
Relationships to Other Games
Mister Bill is a more sophisticated variant of the kid's classic, Old Maid. The main innovations of this game are: the chaos introduced by the waiter cards; and the partnerships, which introduce some additional socializing. None of this really makes the game more strategic (or more random, for that matter). But I think they do make it more fun.
Ultimately, Old Maid variants are a type of set collection game, though one of the simplest variants.
The Game Design
Mister Bill is a pretty simple kid's game. It's fast, it's easy, and it's colorful. There's not much more to say about the game design.
As I stated above, I think the game is an improvement on the original. In addition, as an adult, I actually had some fun playing it; thus I'd be entirely fine playing it with kids.
On the whole, Mister Bill is probably slightly above average for its genre: a high "3" out of "5" for Substance.
Conclusion
Mister Bill is an improvement on the kid's classic, Old Maid. It has colorful cards, and a bit of fun additional chaos. Kids will enjoy it, and parents probably won't mind playing it either.