Tuchulcha
is a four-player Backgammon-like game produced thanks to Mayfair Games' partnership with Italian manufacturer daVinci.
Players: 2-4
Playing Time: 30-60 minutes
Difficulty: 3 (of 10)
Since Tuchulcha is the unspellable and evil god of this piece, I can't help but call him Cthulhu, personally.
The Components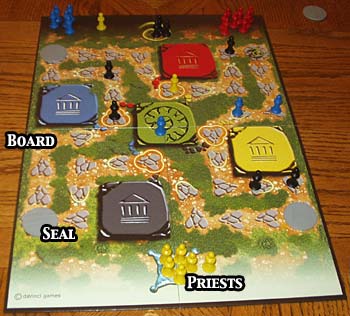 Tuchulcha comes with:
1 gameboard
36 priests
4 seals
4 dice
4 rulebooks
Gameboard: A four-panel linen-textured gameboard that shows a fairly simple track, four connected temples, and a central altar. There is also a "woods" at the top of the board, with evil altar, and a good altar at the bottom. Some of the spaces on the track have different characteristics, and they're pretty easy to make out, but overall I find this computer-generated gameboard a little gaudy and a little too CGI.
The gameboard is two-sided, which is a very nice innovation that I'm very pleased more game companies are taking advantage of nowadays. The front is for 2- or 4-player games and the back is for 3-player games.
Priests: These wood bits look sort of like mini-bishops and are generally evocative. They come in the four player colors: red, blue, black, and yellow.
Seals: These gray wooden disks are meant to "seal" certain spaces on the board. They're fairly plain, but accurately sized for the job.
Dice: Four green wooden dice with pips inked in white.
Rulebooks: The game comes with rules in four languages: English, French, Italian, and German. They're full of illustrations and examples, but I actually found them fairly hard to follow because some of the main rule flow either ends up in pictures or else in the diagrams. I had to read through it a couple of times, and during the game I felt like there were a few rules questions that were never answered. Still, we were able to play.
Overall, the components are high quality and everything is relatively pretty; I give Tuchulcha a "4" out of "5" for Style.
The Game Play
The goal of Tuchulcha is to get as many of your priests as possible from their temple to the central "Velthumena" altar so that your Etrustcan god is ascendant in the new-found city of Rome.
Unless your goal changes, that is.
Setup: Each player begins the game by choosing a color then putting 8-9 priests of his color in his home temple.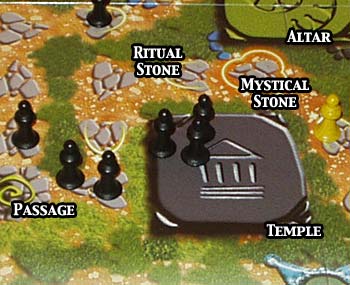 The Board. The board is a circular track which the pawns will travel around in a clockwise direction. Each color has a specific space where they enter the track from their home temple, then three-quarters of the way around the track (or all the way around the track for the 3-player game) a space where they exit the track toward the central altar.
Besides regular spaces (stones) there are also three other types of spaces on the track: mystical stones give priests 3x defensive power, but require them to move off on the start of their next turn; ritual stones give priests 2x defensive power, and don't have any requirements to leave; while passages send priests straight (and irrevocably) to the forest.
Order of Play: Each turn a player rolls two dice. If he gets doubles he may choose to roll a third die if he wants.
The player may then use each of his dice to move one pawn that many spaces; multiple dice may all be applied to the same pawn if desired. All dice must be used, if they can, even if the results are bad.
Pawns move the total number of spaces shown on the die, jumping over anything in between (if multiple dice are applied to the same pawn, they're used one at a time). If a pawn ends his turn on a passage, he's automatically sent to the woods.
A pawn may only end on a space containing an enemy pawn if he can successfully "hit" that pawn: this means that he must land there on his turn with a number of pawns equal to or greater than the number of pawns already on that space (possibly doubled or tripled due to mystical or ritual stones). Any pawns that are 'hit' are sent to the forest, and are out of the game.
When a pawn 'hits' another pawn, it can't move again that turn.
Pawns exit onto the central altar whenever they pass their exit to it (they don't need an exact roll). Whether you must exit the board to the altar or not was one of the unanswered questions I had on the game.
Winning the Game: If no one takes a special role (more on that momentarily) then the game ends when one player has no more pawns in play, because they've all made it to the central altar or else are stuck in the woods. In this case, the player with the most pawns on the central altar is the winner.
Taking Other Roles: During play players can switch their allegiance to either Tuchulcha, the evil enemy of all the Etruscan gods, or else Vecuvia, the foe of Tuchulcha. Only one player may become a worshiper of each additional god.
Playing Tuchulcha. A player can become a worshiper of Tulchulcha when he has at least two priests in the woods or at the central altar. He places those two priests, plus a third which may come from the woods, the central altar, or the player's home temple, in the special temple to Tuchulcha in the woods. He is now a priest to Tuchulcha.
Priests of Tuchulcha have a number of special powers: they get to roll 4 dice instead of 2, but must throw out one of their choice; they can't be hit; and they can move after hitting another pawn.
They also have special victory conditions: they win if all the other players' pawns are eliminated and lose if anyone makes it to the central altar.
Playing Vecuvia. A player can become a worshiper of Vecuvia if there is already a worshiper of Tuchulcha. He must place one of his priests in the Vecuvia altar which is at the bottom of the board.
He gets several special powers: his priests can only be sent to the forest by Tuchulcha priests (everyone else just sends them home when they hit the Vecuvia priests); and he rolls two dice as usual but only moves on the unoccupied spaces on the board (presumably meaning that he can't move onto spaces with his own pieces, but this was another thing not clear in the rules).
The Vecuvia player also receives the four seals. These correspond with the four passages (to the forest) at the four corners of the board. Each time one of his priests lands on a passage he puts down a seal, sealing the passage (though the priest is lost). The Vecuvia worshiper wins if all four passages are sealed.
Different Numbers of Players: The game works slightly differently for each different number of players.
For two players, the 4-player board is used, with 5 priests in each of the "unused" temples. These priests may be moved by either player, presumably to hit enemy priests.
For three players, the special 3-player board is used.
Vecuvia isn't available in either the two- or three- player game.
Relationships to Other games
Backgammon is one of the oldest games in the world. We've found sets that look like it in Ur 5000 years ago and in ancient Egypt, where it was named Sennet (though we don't have the rules for either game). In Rome it was Ludus Duodecium Scriptorium and it's appeared on and off throughout history since. Backgammon is, of course, a game of moving pieces from the start to end on a track, rolling dice, getting a bonus on doubles, and hitting enemy pieces (in this case sending them back to the start) if they're weak enough (singletons, or blots, in the case of Backgammon).
One of Backgammon's best known descendents is Parchisi which first appeared in India about 2000 years ago (presumably after moving east from Ur). In this game players must get four pieces around a track, rolling dice to move one or more them, and getting a bonus on doubles. They can also hit enemy pieces, sending them home, and can form blockades with two or more pieces.
This should all sound very similar to the description of Tuchulcha above. It lies somewhere on the spectrum between Parchisi and Backgammon, less random than the first, less strategic than the second. Its unique claim is definitely the ability to change victory conditions midgame.
The Game Design
On the face of it,
Tuchulcha
is a fairly simple game. Here's some of the good points:
Real Tactics: There is real opportunity for tactics in the game, involving both hitting opponents' priests, and also deciding how to position your pieces best as your turn comes to an end. Many of these tactical answers may be "obvious", but still they take real thought and there's satisfaction about coming to an answer. On top of the real tactics is some fairly limited strategy related to long-term board positions.
Changing Roles Highly Original: The fact that you can change roles to recover from an otherwise losing position is fairly original, and is really what makes the game go. The game is also definitely at its best when priests to both Tuchulcha and Vecuvia are in play, as you have to constantly think about how to stop all three categories of players.
On the other side, I'll only say that Tuchulcha is as random as you would expect for a game that asks you to roll a couple of dice every turn. I don't think it's too excessive, and believe that it's appropriate for the family game category Tuchulcha is set in, but it's something you should be aware of.
Overall, if I were evaluating Tuchulcha on the merits of its core gameplay, related to movement and hitting opponents, I'd give it an average "3" out of "5" for Substance. It's been done before, it works, and this game is a fairly new and innovative look at the genre.
However, where the game really shines is in its ideas about changing roles, as the game can get really hectic when four players are playing three different roles, each with different victory conditions. Because of the innovation, and the fact that it generally creates a better game, I think Tuchulcha ekes in a "4" out of "5" for Substance (though I'll comment that I would stay with a high "3" out of "5" for two- or three-player play, since the Vecuvia role isn't available there).
Conclusion
Tuchulcha is, essentially, a new look at Backgammon for 2-4 players. The core mechanics are fairly average, but the game wins points on the fact that players can change victory condition mid-game, creating a more chaotic and thoughtful atmosphere. If you're looking for a casual, family game; if you like Backgammon; and particularly if you expect regularly to have precisely four players, this is a really good fit. For less than four players, it probably depends on how big a fan of the general genre you are.